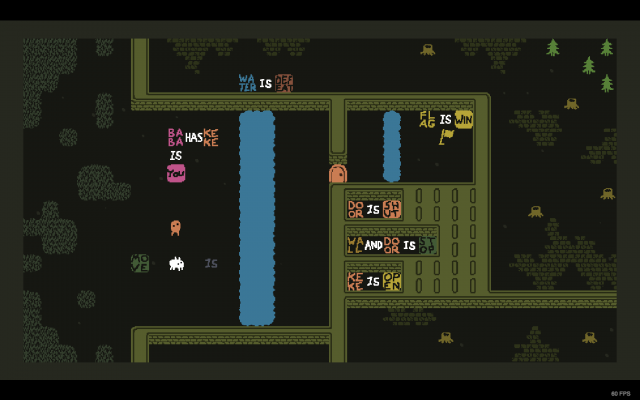 Link: https://hempuli.com/baba/
Description:
As described in its official website, Baba Is You is a puzzle game where the rules players have to follow are present as physical objects in the game world.
Baba Is You mainly has two kinds of objects which are text object and real object. The text can be a name, a logic word or a property word. The rules in the game are formalised using three texts. For example, in the sentence BABA IS YOU, [BABA] is a name text which refers to the main character, [IS] is a logic word which means having the property, and [YOU] means the referenced object has the property "controlled by player". A rule can also be stated as "something is something" or "something has something".
The winning condition:
The winning condition, of course, is also stated using text objects in the game. Basically, we need to let the place where exists the object, which has the property YOU, also exists an object, which has the property WIN, i.e., YOU IS WIN.
What I'm doing and my feelings:
As a player, I just randomly try different combination of words in the beginning stages. Those tutorial stages are quite friendly. I not only can clear the stage with a limited number of attempts but also get the basic ideas of the game. In the following stages, the difficulty of the game increase quite smoothly. The following stages continually introduce new logic and property words which makes the gameplay very interesting.
Elemental tetrad:
Mechanics : The game is a 2D single-player game with dynamic rules. The rules are determined by how the words objects are arranged.
Story: The game doesn't really have a story.
Aesthetics: The graphics and music are quite comfortable and dreamlike.
Technology: The basic rules are from Sokoban, but the dynamic rule in the game is very creative.
Lenses:
Essential Experience: The players get pleasure by solving the puzzles.
Surprise, fun: There is a large number of possible combination of words which enables players to have many possible rules. There are a lot of them surprising and fun.
Curiosity: This game inspires players to discover new rules.
Problem Solving: This is a puzzle game.
Holographic Design: All the elements of the game are consistent.
Unification Theme: Every thing in the game reinforce the theme – solve the puzzle by manipulate the rules.