Introduction
Virtual reality (VR) is an interactive, computer-generated depiction of a real or artificial world or activity. Mixed reality (MR) is an interactive depiction or view of combined real-world and computer-generated elements. Augmented reality (AR) is a real-world view with additional, computer-generated enhancements.
Because of the novel experience that VR/AR/MR can bring to people, more and more people begin to pay attention to VR/AR/MR headset devices, in order to achieve a better game experience. Therefore, this article will analyze several popular VR/AR/MR headset devices recently and make recommendations.
VR Devices
VR technology integrates computer graphics, simulation technology, multimedia technology, artificial intelligence technology, computer network technology, parallel processing technology, multi-sensor technology, and other technologies to simulate the functions of human sense organs such as vision, hearing, and touch. It feels like being on the scene, immersed in a computer-generated virtual world, and can communicate in real-time through language, gestures, etc., to enhance the sense of entry and immersion. Through VR technology, people can feel the reality of the real world while breaking through the constraints of time and space and feel the wonderful experience of entering the virtual world. VR technology is widely used. For example, astronauts using VR simulation technology for training; architects make drawings into three-dimensional virtual buildings, which are convenient for experience and modification, and so on.
| | | | |
| --- | --- | --- | --- |
| | Oculus Quest 2 | Valve Index | HTC Vive |
| Resolution | 3664 x 1920 pixels | 1660 x 1440 pixels | 2880 x 1700 pixels |
| FOV | 100° | 130° | 110° |
| Refresh Rate | 90 Hz | 120 Hz | 90 Hz |
| Controllers | Oculus Touch | Index Controllers | 1st-gen Vive Controllers |
| Display | LCD | AMOLED | LCD |
| Pricing | $431 | $1327 | $1229 |
| Connection Type | Wireless | DisplayPort, USB 3.0, USB 2.0 | DisplayPort 1.2, USB 3.0 |
My favorite VR Devices
For me, my favorite VR device is Oculus Quest 2.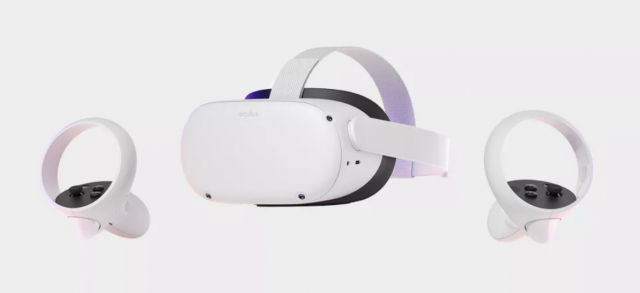 As we can see, the price of Oculus Quest 2 is much cheaper than others. At $431 with nothing else needed, the Oculus Quest 2 delivers virtual reality games and an immersive VR experience anywhere. It's faster, smaller, cheaper, and more comfortable to wear than the original Quest, but you have to log in to Facebook in order to use it.
Besides, the Quest 2 takes only seconds to start up and fits really well over glasses. The standalone VR headset has self-contained motion tracking and a full-motion six degrees of freedom (aka 6DoF) VR controller that is the same as the ones on the PC-required Oculus Rift, plus a surprisingly great high-resolution display and built-in speakers. Apps are downloaded right to the standalone headset's onboard storage. Its more limited mobile processor still plays games such as Beat Saber, Moss, and SuperHot VR extremely well, and it can even connect with a PC if you want to, using a single USB-C cable.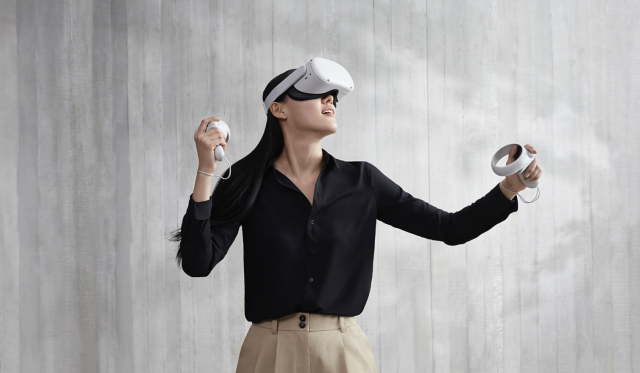 AR/MR Devices
Augmented Reality (AR) is to use computer technology to superimpose virtual information into the real world, display it through mobile phones, tablet computers, and other devices, and be perceived by people, so as to realize the integration of reality and virtuality and enrich the real world. In short, it is to "live" the content of the plane itself, give more information to the real object, enhance the three-dimensional sense, and strengthen the visual effect and interactive experience. It is a real-world view with additional, computer-generated enhancements. The common application of AR technology is to use the mobile phone camera to scan real-world objects and display corresponding pictures, audio and video, 3D models, etc. on the mobile phone through image recognition technology.
Mixed reality (MR) is an interactive depiction or view of combined real-world and computer-generated elements. It is by introducing real scene information into the virtual environment to build a bridge between the virtual world, the real world, and the user, thereby enhancing the realism of the user experience. The key point of MR technology is to interact with the real world and obtain information in time.
Unlike virtual reality, AR/MR is not limited to a wearable device and is being tested and implemented on phones, projectors, and PCs alike in addition to AR/MR glasses or AR/MR headsets. Although this technology has huge potential for mass adoption, it is fairly less understood than even virtual reality.
Microsoft HoloLens 2 (MR)
Magic Leap One (AR)
Google Glass Edition 2
Resolution
2048 x 1080 pixels
1300 pixels per eye
720p video capable
FOV
52°
50°
80°
Refresh Rate
120 Hz
120 Hz
–
Tracking and Control
Eye and hand
Eye and hand, with haptics
Eye and hand
Battery Life
6 h
3 h
8 h
Pricing
$3500
$2295
$1167
Weight
566 g
454 g
46 g
Others
– For AR developers
– Remote control
– Sharing of AR

– Haptics
– 8GB RAM
– GPS
– Voice command
My favorite MR Devices
For me, my favorite MR device is Microsoft HoloLens 2.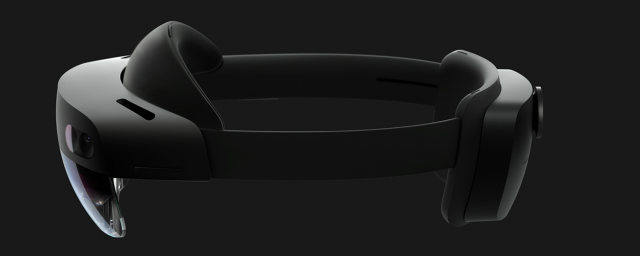 Besides the features shown in the above table, Microsoft HoloLens 2 has the following features:
52 degrees of freedom (Edition 1 had 34); 47 pixel per degree or 2048 x 1080 pixels per eye.
Transparent lenses, HD 8 MP camera, numerous sensors to track user position from all sides, and a microphone for voice inputs.
The current updated HoloLens 2 has two 2K 120 Hz (refresh rate) displays that project to overlay 3D color 3D images over natural spaces so the user sees mixed reality and can interact with virtual 3D models and holographs.
Eye and hand movement tracking to place mixed reality content appropriately and allow proper interaction by the user.
Popular for enterprises in remote training, remote collaboration, logistics, assembly lines, etc.
HoloLens 2 used for developing mixed reality apps with Unity and Azure for free trials.
The remote assist option allows for data sharing and collaboration.
4GB RAM, Storage 64 GB. Weighs 20 OZ.
CPU: Custom-built Microsoft Holographic Processing Unit (HPU Generation 2); Qualcomm Snapdragon 850.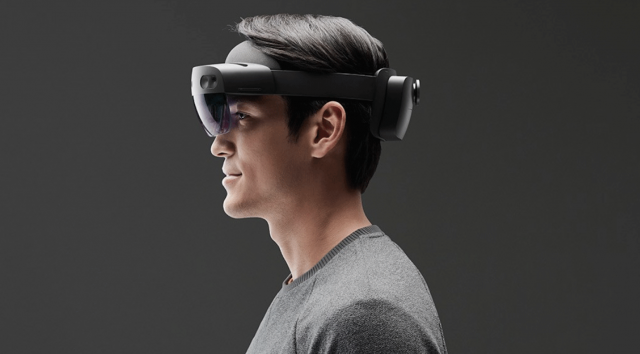 First of all, HoloLens 2 works smarter with the ultimate mixed reality device. HoloLens 2 offers the most comfortable and immersive mixed reality experience available, with industry-leading solutions that deliver value in minutes—all enhanced by the reliability, security, and scalability of the cloud and AI services from Microsoft.
Besides, HoloLens 2 is immersive and ergonomic. It can see more holograms at once through the greatly increased field of view. Read the text and see intricate details on 3D images more easily and comfortably with industry-leading resolution. People can wear HoloLens 2 longer and more comfortably with a dial-in fit system designed for extended use. And keep your glasses on—the headset slides right over them. When it's time to switch tasks, flip the visor up to step out of mixed reality.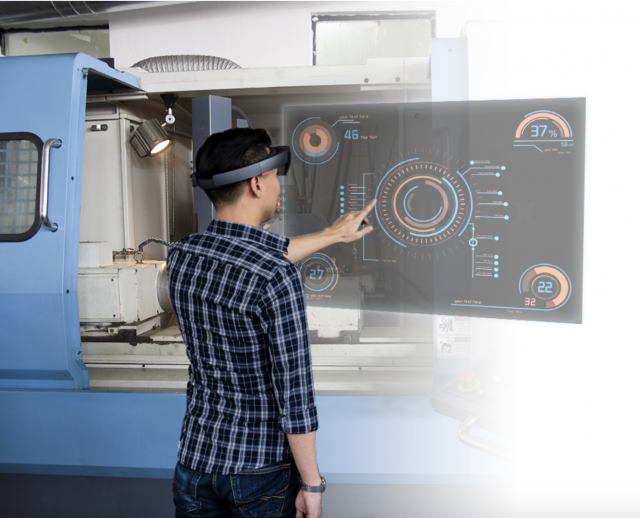 Moreover, people can touch, grasp, and move holograms in ways that feel natural—they respond a lot like real objects. Log in to HoloLens 2 instantly and securely using just your eyes with Windows Hello. And voice commands work even in noisy industrial environments through smart microphones and natural language speech processing.
Finally, HoloLens 2 can move freely, with no wires or external packs to get in your way. The HoloLens 2 headset is a self-contained computer with Wi-Fi connectivity, which means that everything you need goes with you while you work.