Collaboration online has become more popular in recent days. The new technology using XR enables for interesting and exciting interaction that has not been possible before. Ever since Covid-19 came around, it has more or less been a necessity to be able to collaborate online, for safety reasons. 
One application that can be used for this is Mozilla Hubs which is an open-source social virtual reality platform. It is accessible on desktop, mobile or with VR-headset and it creates collaboration in a fun way. To start a meeting, simply create a room and share the link with your friends or colleagues. You can either select a premade room with just a click or create your own room from scratch using the 3D modeling tool Spoke. When inside the room, you can move around using the keyboard or a joystick, depending on what device you are logged onto. Hubs have the basic video conference settings such as screen sharing, draw, muting/unmuting mic and react. But you can also place 3D objects in the virtual space. Before I go into more detail about Hubs, it is worth to mention that I've only tried the application on a computer.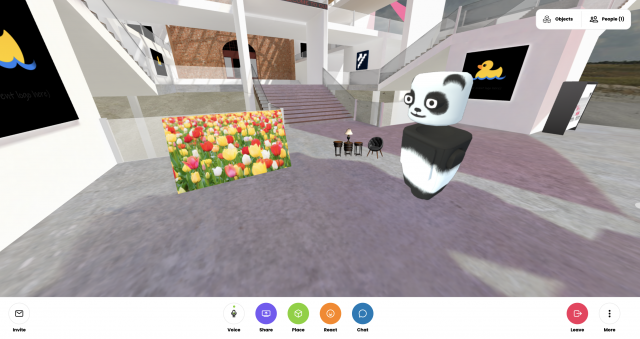 So why would you use this application? One reason for using it is that it feels like you are actually interacting with people during the meeting, and they must participate actively in the meeting. For me at least, there is nothing more boring than just talking to a screen while everyone has their camera turned off and not paying attention. But when someone is sharing a screen in Hubs for example, you have to walk up to the screen to see what is being shared. Everyone also gets to choose their own avatar, which makes it feel more personal.
The spatialized audio also makes it so that you have to be in proximity to the one you are conversing with to be able to hear them. This is clever because you can easily break out into smaller groups by just distancing yourself from the group. What I especially like about it is that is widely accessible for everyone. It works on all devices as I mentioned before and there is no installation requires which allows for an easy set up. However, if you want to spend more time on setting a room up, there are many opportunities for customization.
Another feature that I like is the object panel where you can find and edit all of your objects. Because when you are in a 3D world, it can be hard to keep track of all your placed objects, so it is nice to have an overview of them. But of course, to not take away from the immersive experience, you can interact and edit them with your avatar as well.
Although I think it is a good application, there is some features that could be further developed. One example is that it is hard to position the objects that you are placing in your room, like a shared screen or a 3D-object. When placing an object, it appears in front of your avatar and then you have to manually place it if you want to reposition it. Since the objects have no shadows, it is hard to perceive where you are placing the object. One suggestion to make the placement easier is to add a shadow under the object, or just a small marking on the floor that follows your object so you have a reference point.
To sum this up, I think that Mozilla Hubs is a good VR application that is easy to use, and it is for everyone.