Brawl Stars is a multiplayer online battle arena (MOBA) and third-person hero shooter video game that was developed and published by a Finnish video game company Supercell. The game was nominated for "Mobile Game" and "EE Mobile Game of the Year" at the 15th British Academy Games Awards. The game had the second highest game downloads in Europe.
Lens #9: The Lens of the Elemental Tetrad
Mechanics
Before I touch on the mechanics of the game, I would like to explain a little about the characters and game modes that Brawl Stars offers.
There are 54 brawlers available in the game, where the player has to unlock or buy. The player can choose amongst the few that they have unlocked. This is important as each brawler can have very different ways of attacking. Some are shooters where you drag and aim to shoot, while some are throwers where you aim on a specific spot to throw your bomb at. There are also melee characters and many more.
There are tons of game events for the player to choose from. They are refreshed daily with different maps and sometimes changing events. Depending on the mode of game, there can be 1 – 3 members in a team playing for different objectives. Almost all modes (Gem Grab, Heist, Siege and Bounty, etc) have 3 members in a team, while Showdown modes have either 1 or 2 members in a team. For ease of discussion, I'll focus on talking about some of main events of Brawl Stars — Gem Grab, Showdown and Brawl Ball.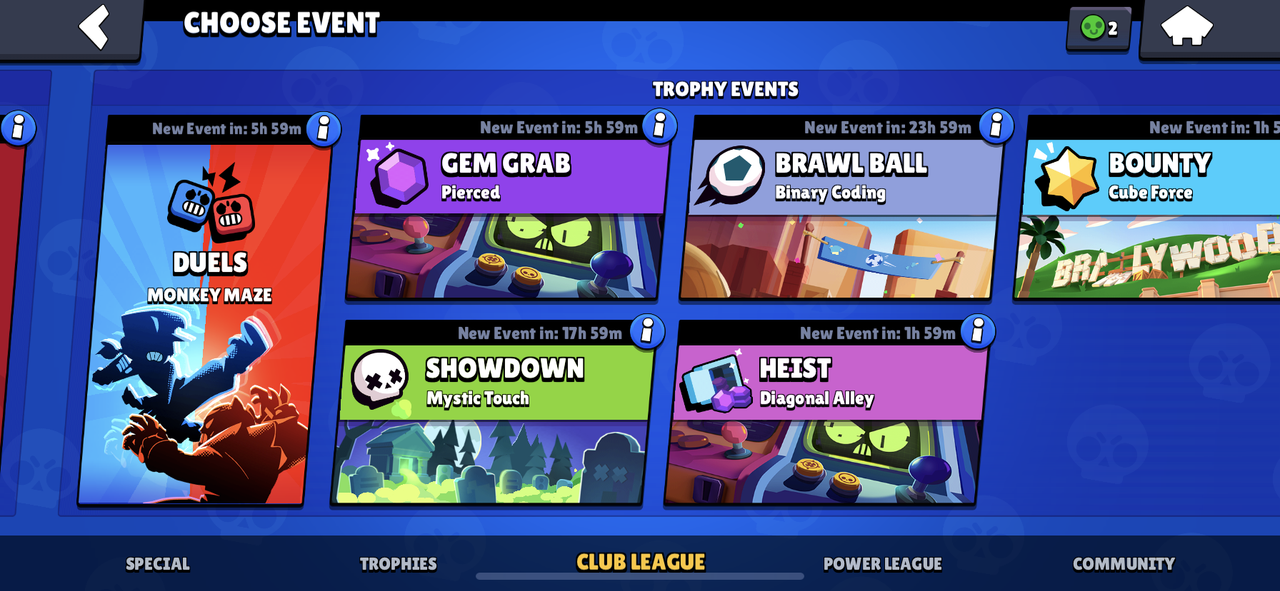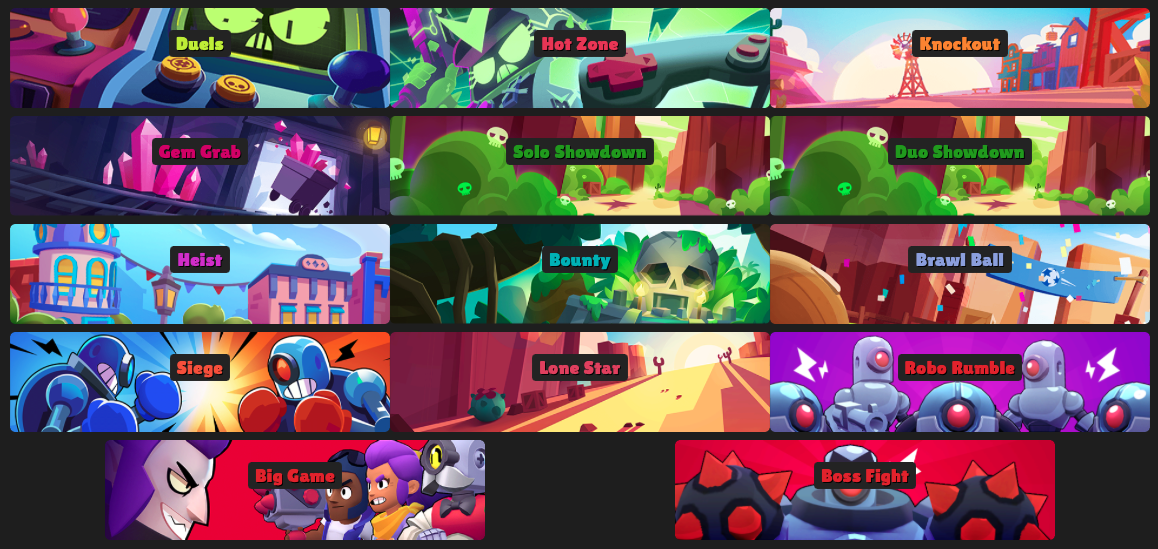 In Gem Grab, a team of 3 has to gather and hold 10 gems collectively for 10 seconds for the game to end.
In Brawl Ball, your team has to shoot the ball through the opponents goal, while defending your own.
In Showdown, you have to survive! Take others out and be the last one standing.
Thanks to its amazing graphics, the 2D gameplay looks 3D. There are bushes and walls in the terrain that the players can hide in or destroy as well.
Story
While there isn't really a storyline in gameplay, Brawl Stars offer seasons instead. Each season last around 3 months and they offer an entirely new theme to the game. I find that it gives a sense of progression and continuity from one season to the next. Season 8 had Once Upon a Brawl, where game is based in the world of fairy tales, and Season 9 had a Brawlywood theme, inspired by Hollywood.
Each brawler may also have their own story that can be accessed in their character profile. Some character voiceovers and story even hint at possible friendships and relationships between different brawlers.
Brawl Stars also likes to release interesting animations (video above) to introduce new brawlers for each seasons. Here we can peek the personalities of various brawlers and the backstory of the new brawler.
Technology
Brawl Stars is published for iOS and Android in 2018. It only supports online multiplayer gameplay, though players can choose to team up with friends or be randomly matched with other players.
Aesthetics
Each season in Brawl Stars brings about a whole new look to the game. It is impressive that they can retain the original feel of the game while changing its theme so often.
There are often new skins (unique to the theme or to festivals) for many brawlers and the event maps are also changed to match it.
All animations for each brawler are unique and dynamic, which I find adds to the game feel. I have heard people say that brawlers sometimes seem more invincible when they don a specific skin.
Lens #1: The Lens of Emotion
Playing Brawl Stars gives the player a sense of excitement during gameplay. Regardless of the game event, the games are usually fast paced and there is a strong sense of competition as we play against other people.
As I play against other teams, I often get excited, stressed and competitive. I get angry if there is a player on my team that afk-ed or if we are losing and the other team mocks us.
Gameplay is much more fun when played in a team of friends. We have fun strategising and celebrate our wins. Although there have also been times that we scold each other for mistakes in gameplay (all in good fun!).
Lens #21: The Lens of Flow
Each game mode has very clear goals. The instructions can be read in the event description. Even without it, the rules are simple enough for the player to figure it out as they play. In Gem Grab, an instruction to "Grab 10 Gems to Win" is very clear and takes no time at all to understand.
There are little to no distractions in the game as the objective is clear and it becomes the main focus for the player.
There is also a nice flow of progression as each brawler unlocked starts from power and rank 0. This allows them to start from the bottom and work their way up to face tougher and higher ranked opponents. This gives them time to familiarise with their new brawler and improve their skills.
Lens #37: Lens of Fairness
Players and teams are matched by their rank, not power. This makes the game asymmetrical especially if some players get a new brawler with rank 0 but spend a lot of money upgrading it to the highest power. This makes lower rank gameplay very easy for that player, but hard for everyone else.
The game uses our rank as an indication of our skill level and (hopefully) power level. In majority of the match ups, this does hold true. Despite that, the number of unfair match ups aren't little as well.
In the case of lacking players, the game might match you with a team that has an average rank much higher than yours. The start of the game will indicate that we are the underdog of the match and we will get some additional trophies back as compensation.
Lens #96: Lens of Friendship
I love playing with my friends as it is easier to communicate and play together.
Other than known friends, Brawl Stars also allows you to play again with your team (whether you know them or not). After a couple of rounds with the same player, you can go to your friends list and send them a request. This allows players that worked well together become friends. There are chatting functions when you form your team, where stickers and text can be used.
During gameplay, players can also use emoticons to communicate with one another. They can put out happy emoticons when they score the great goal, or an angry emoticon when someone made a mistake.
Conclusion
There is much more to Brawl Stars that is hard to encapsulate in one blog post. I find the game a fun and competitive one that you can play with a bunch of friends. Looking at the Lens of Elemental Tetrad, the game is a bit lacking in the storyline component. Despite that, I think the game is very well made and all other components: Aesthetics, Mechanics and Technology work very well together in harmony. The unique character designs and backstories for each brawler makes for an interesting storyline for the game and could be a potential area to explore. Overall, the game has a great cohesive game feel and I would definitely recommend you to try it out!