Thanks to advances in both technology and commoditization of components and overall products, XR has become more and more common. Now, it can even be included in your everyday smartphones, game systems, and plenty of others devices. The development that goes into the hardware and software has also begun to be streamlined, so it is much easier to have access to these devices than it was, say 5 years ago.
So without further ado, here are some current XR devices that don't come 1st to mind.
Virtual Reality (VR)
Nintendo Labo (VR Kit)
Nintendo Labo are a set of "toys come to life", as Nintendo puts it. They are cardboard sets that encourage building, engineering, programming, and of course, playing games. Each set comes with a number of designs and minigames that correspond to each Labo design.
However, we will be focusing on the VR kit.
There are 6 designs included with the VR kit:
* VR goggles
* Camera
* Bird
* Wind flap
* Blaster
* Elephant
And in particular with the VR kit, it is compatible with some other non-Labo titles such as:
* Super Smash Bros. Ultimate
* Legend of Zelda: Breath of the Wild
* Super Mario Odyssey
* Captain Toad: Treasure Tracker
The VR kit also allows you to write your own small minigames.
| | |
| --- | --- |
| Pros | Cons |
| + Gives the skills of building and programming to beginners | – No strap for the head |
| + Lots of variety both in Labo kits themselves, as well as this particular VR kit | – Only 3 DoF |
| + Able to create your own games, furthering creating your own experiences | – Pricey and a bit flimsy (USD $80) |
| + Wireless | – Timely setup |
| + Starter pack is cheap (USD $40 for goggles and blaster) | – Short games |
| | – Poor visuals (720p screen and 2 lenses) |
| | – Cardboard granules appear after use, lots of cleaning |
Google Cardboard
Google Cardboard is Google's current foray in XR, as well as their most successful. Previously, they tried their hand with Google Glass, an AR set of glasses, and Daydream, an enhanced Cardboard.
But seeing as they failed, we will continue with Cardboard.
Seeing as Google Cardboard is just a cardboard headset with a phone placed in there, it functions about the same as a normal smartphone would. That being said, there is a Cardboard app that pairs your phone and allows you to tap into VR apps more. The momentum for Cardboard has been falling, due to no killer apps.
| | |
| --- | --- |
| Pros | Cons |
| + Open-source | – No standards in development |
| + Cheap (USD $15) | – Resolution and refresh rate is only as good as your phone |
| + Easy to assemble | – Makes VR seem gimmicky |
| + Inspired many cheaper methods to achieve VR | – Lots of knockoff headsets that, admittedly are more stable |
| | – Easier to experience dizziness and nausea, since the screen is 2 in from your face |
| | – No dedicated controller comes with the device, unless you have a Daydream (failed) or buy a controller separately |
Relativ (Relativty)
Relativty is a completely open-source, DIY VR headset. Built using Arduino, anyone is able to create, develop, and contribute to this small project. This project pretty much just focuses on the headset itself, but others in the community have made games and peripherals for this.
Because it's 100% open-sourced and relatively new as of writing, there's only so much I can comment on, so I will leave the site and GitHub below:
https://www.relativty.net/
https://github.com/relativty/Relativ
| | |
| --- | --- |
| Pros | Cons |
| + 100% open-source | – Arduino Due sensors don't work well, so that code is being deprecated |
| + 9 DoF is coming | – No standards in development |
| + Multiple 3D-printable models exist | – No controllers (at least officially supported ones) exist, but are in development |
| + Small, but active community | – Check the 3D models on the sizes of components, as they might not be the same as the ones listed in the Wiki |
| + Based on OSVR | – Not standalone |
| +Works with SteamVR | |
| + 100% customizable to individual needs, due to being open-source and Arduino-based | |
Winner: Relativ (Relativty)
I love open-source projects and I love DIY projects. I also have a bit of a bias, as I recently just built this and am trying to figure out controller support. If you just want to have a go at VR on your own, I'd highly recommend this, as you get a basic idea on the ins-and-outs of what's in a VR headset, as well as specify this to your own needs.
For all the materials, it was supposed to cost around USD $100, but I was able to get it down to about USD $80.
Augmented Reality (AR) / Mixed Reality (MR)
Vuzix Blade
The Blade, unlike the other glasses in Vuzix's lineup, bill themselves as a head's up display rather than a fully MR device. The OS is Android, and while you can somewhat use it as a standard Android device, there are several apps developed specifically for the Blade.

Some companies that have developed or worked with the Blade include:
* Amazon
* Accuweather
* Yelp
* Google
| | |
| --- | --- |
| Pros | Cons |
| + Simplistic UI | – Bulky and uncomfortable |
| + Alexa is built-in | – Has few apps optimized for it |
| + Rechargeable battery, with up to 8 hours | – Pricey (USD $800) |
| + Touch pad | – Battery drains very fast |
| + Motion detection | |
| + Expandable memory via MicroSD | |
Magic Leap 1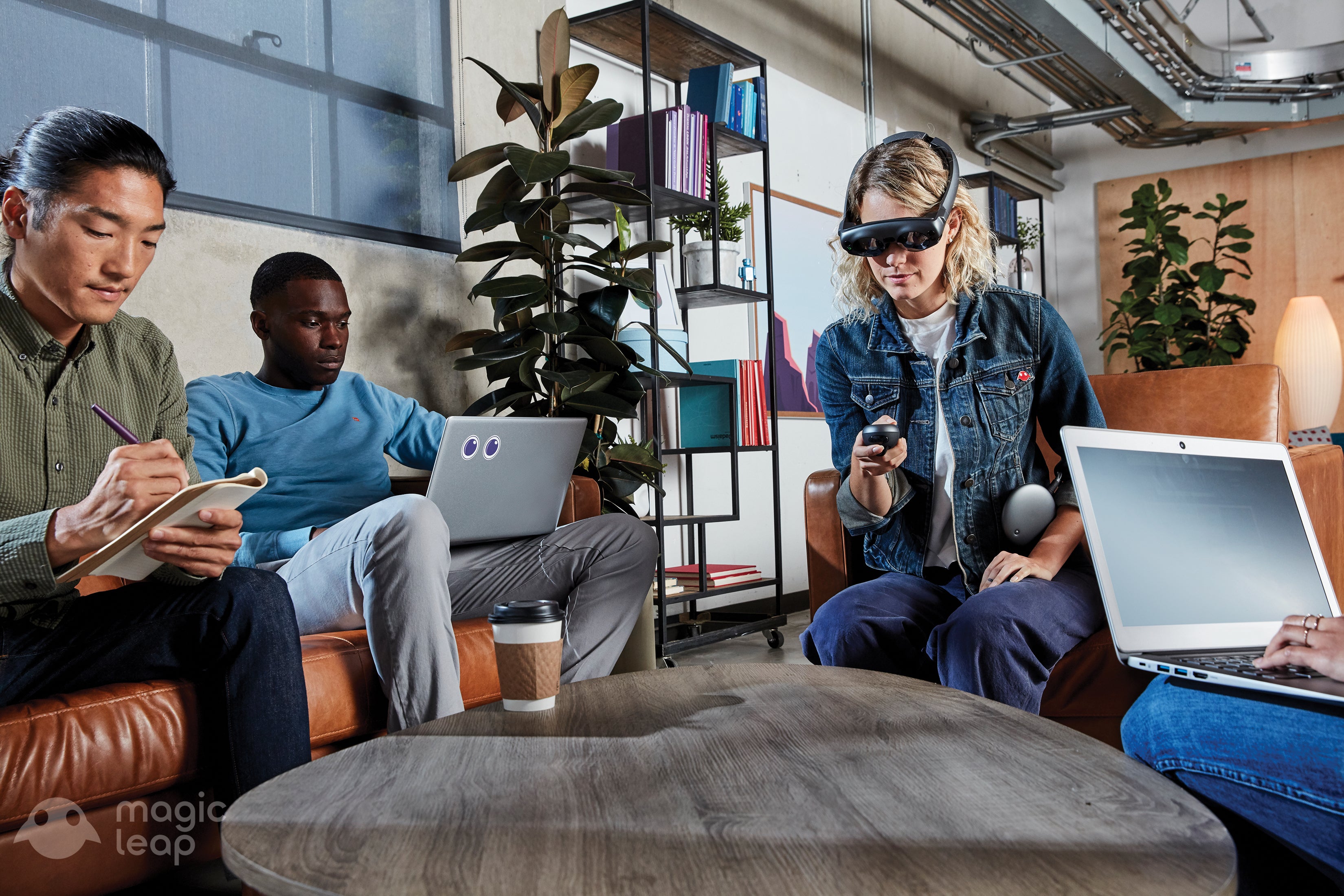 Magic Leap 1 is the 1st generation MR device from Magic Leap. It uses its own custom OS known as LuminOS. LuminOS is designed with spatial computing in mind, dealing with motion detection and object placement.
There have been a number of games and art installations revolving around using the Magic Leap 1, and the 2 is on the way. But since it is the 1st of the company's, there is only so much software.
| | |
| --- | --- |
| Pros | Cons |
| + 8 GB RAM, 128 GB of storage | – Very little software |
| + Comes with controller | – Pricey (USD $2295) |
| + Custom OS to fit the needs of the device | – To use the simulations, you have to hook it up to a battery pack |
| + Sleek design, comfortable | – Battery life of 3.5 hours |
| + Motion detection for head, hands, and eyes; object placement and interaction | |
Varjo XR-1
Varjo's XR-1 is the 1st of the company's Mixed Reality line. It is mainly aimed at businesses and in the field of medicine. As a full on headset, the virtual view can be turned off in favor of the real world view.
The main use cases of the XR-1 is for R&D teams, as seen by the requirements for using it. It has near photorealism in the virtual world.
| | |
| --- | --- |
| Pros | Cons |
| + High-end graphics | – Very pricey (USD $10000) |
| + Can go in and out of virtual world | – High requirements for use |
| + Motion detection and object placement | – Use cases are currently only for businesses and R&D |
| | – Some of the photorealism leans into the uncanny valley |
| | – Not standalone, tethered |
Winner: Magic Leap 1
While still in the early stages, the Magic Leap 1 shows a lot of promise in all industries. LuminOS seems to work relatively well, considering its not even in 1.0 yet. If the price can be lowered and more developers get interested, I think the Magic Leap will not only be a good competitor for Microsoft, but a great device to own.