Written by Ian Hong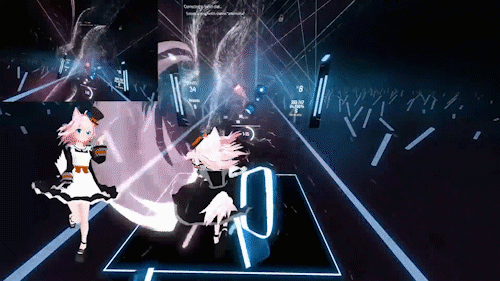 As someone who produces my own music, I really enjoy the first-person VR rhythm game Beat Saber. It allows players to visually and physically immerse themselves in the music. bsaber.com crudely describes the excitement of slashing along to songs akin to "shoot[ing] the maps you want straight into your bloodstream." The player is given 2 sabers and they slice blocks to the rhythm. Players can play along with friends, challenge other online players, or strive to break their personal best scores for their songs. After reading the reviews by my classmates LimJunxue and DevATeo, I will take their posts into account and offer my own analysis of the game. Do note that I do not own a VR headset and will be judging the experience solely based on watching gameplay from YouTube.
Why Beat Saber is an Outstanding VR Experience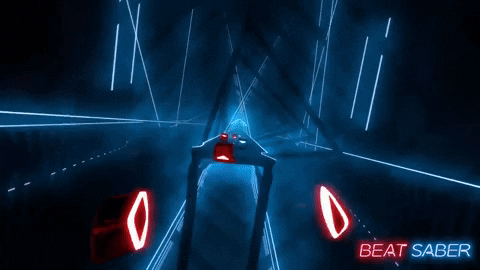 1. Immersive, focused gameplay
The first thing a new player will notice is that the game makes them feel like they are 'in' the song. Like what Junxue mentioned, Beat Saber draws the player in and lets them forget about their environment.
The player finds themself in a dark tunnel, and then notices red and blue blocks flying towards them. The simple and non-distracting background does not burden the player's cognitive load, and lets them focus on slicing those blocks. Slashing the blocks makes the background light up, but it fades away quickly, giving the player satisfying feedback but also not being too distracting.
Additionally, the simple colour scheme (namely blues, reds and black) is used consistently throughout the game, giving it a polished look.
2. Easy to learn, rewarding to master
Next, Beat Saber speaks the player's language when it comes to interaction. New players immediately know what to do with their sabers. The blocks resemble juicy fruit to be cut, which is similar to fruit ninja, a popular mobile game. The player's instinct to duck occurs when they see a large wall flying towards their head. By applying the players' existing mental models to the game, Beat Saber delivers an intuitive user experience without the need for much explaining.
The starting tutorial features bass-heavy electronic music with blocks being in sync with the strong beats. After slashing through these blocks, the player quickly feels badass, and also learns the rules of the game, eg. blue is right, red is left. This new power makes the player feel good about themselves and encourages them to keep playing.
After playing for a while, players seeking personal glory try to beat their best scores, or even training to obtain the highest score in the global leaderboards. This social element is a great way to encourage replayability.
However, the finesse doesn't stop there. Content creators such as Artemisblue have honed their skills to the point that they are able to dance expressively, while slicing boxes to the beat. Please watch the 1-min video above.
By allowing experts to accomplish such impressive feats, while at the same time remaining easy and enjoyable for beginners makes Beat Saber a truly fantastic VR experience.
Nevertheless, there are still some aspects which can be worked on.
Areas in which Beat Saber can Improve
1. Legalising user-made content
Across all game review platforms, the most common complaint about the base game was the limited selection of songs and genres. Players got bored of the songs and maps quickly.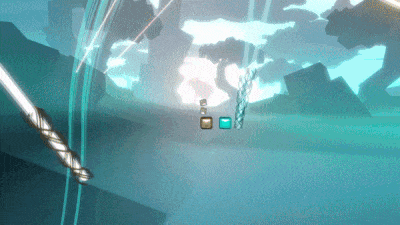 In response to this, a highly enthusiastic modding community has sprung up around the game, making mods which let users customise every aspect of the game, from loading custom songs with custom environments, to using custom avatars. It is relatively easy to mod the game, given the numerous guides and tutorials produced by this community. This has resulted in a cornucopia of user-generated content, richly enhancing the gameplay.
Although these mods bring the game (and its revenue) to the next level, the CEO of Beat Saber cannot support them because the producers of the new songs in the mods do not get paid for their work. The situation has reached a stalemate, with the dev team neither supporting nor hindering the modding community.
One possible solution Beat Saber can adopt is to partner with music distribution services such as CD Baby or Distrokid to give royalties to artists whenever their songs are played. These services already do so when their music is streamed on Spotify, YouTube, or even Tiktok. Surely something can be worked out with Beat Saber.
2. Menu selection method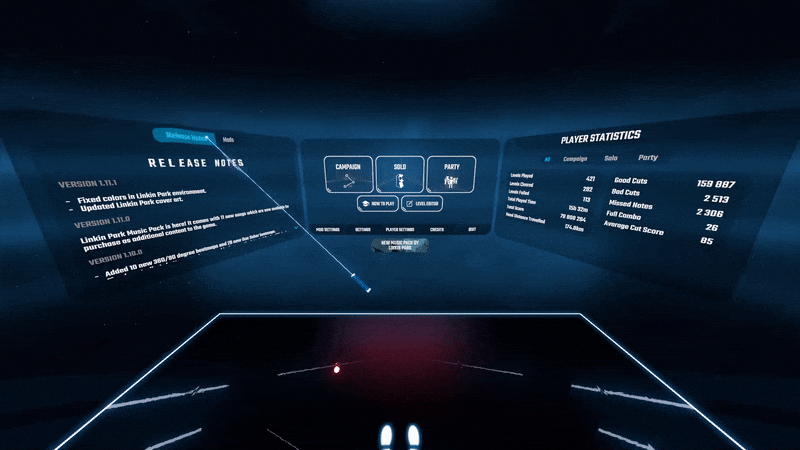 If you're like me and find it hard to keep still after an intense workout, then you may find this point relatable. To navigate the menus between songs, users have to point a ray from their controller to select small buttons on the menu in the distance. This fiddly job requires concentration and precision, both of which the player may not possess after a physically demanding song. It would be better if other selection methods were used, such as slicing a block placed near each option in the menu. That would be much easier to do while catching my breath.
3. Safety
Finally, Beat Saber doesn't have its own safety system. Players have reported hitting tables with their hands and toppling furniture. Though the game does warn the player before the enter, a warning in a literal wall of text is likely to be overlooked. Guardian on the Oculus Quest 2 is a great example in terms of ensuring user safety.
Overall, Beat Saber is a VR experience that is easy to learn, fun to play, and rewarding to master. It sets the standard for VR experiences to come, and I can't wait to try it out for myself.